In many cases your regular shoes cannot provide the necessary level of protection for your feet. This is why you need steel toe shoes. These shoes are incredibly durable and they have the same features as regular shoes. In other words, you can only gain if you buy steel toe shoes and you've got nothing to lose. This doesn't mean that these shoes are invincible so you should always try to avoid hazardous situations regardless where you are – at your work place or performing some outdoor physical activity. The number of people that are aware of the advantages of wearing steel toe shoes and this is why the demand for these shoes on the market is record high. People today have the opportunity to choose from many different types of steel toe shoes. They can be divided into categories depending on their appearance, material that they are made of etc. One type that is very popular among people who prefer sporty shoes with extra protection are the steel toe running shoes. The following is a list of the best models of steel toe running shoes on the market today based on users' experience.
Top Steel Toe Running Shoes today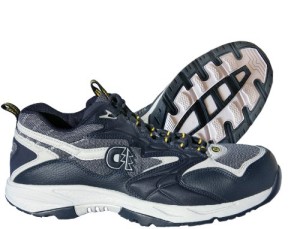 Dunham is a Canadian brand that is slowly establishing itself on this market. Their Steel Toe Running Shoes model certainly helps them present themselves as quality manufacturers. These beautiful steel toe shoes don't look different from any other type of running shoes. The only difference is inside. These shoes are electric hazard rated, they have a non-marking/oil-resistant rubber outsole and in addition they come with special midsole designed for maximum absorption of blows. This is one of the steel toe running shoes models that you can get for a price lower than $100 but you can expect to get the same quality as some other expensive models of this type.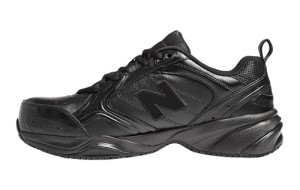 This model of steel toe running shoes is another proof that major shoe manufacturers cannot ignore the fact that steel toe shoes are so popular these days. This is one of their best models of steel toe shoes designed to be competitive with other major brands in this field. The main focus is on the support of the feet and the appearance. It seems that New Balance has made a great job in both fields. These shoes look very simple, elegant and sporty too. The Durometer midsole and the internal shank are here to provide outstanding support to the feet. They can protect users from electrical hazards, oil leaking and abrasion. They also meet two ASTM standards.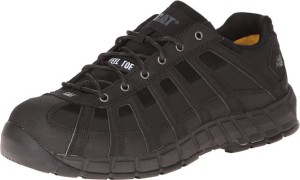 Caterpillar is one of the best manufacturers of heavy equipment in the world. Their equipment is used by both workers and people who care about their safety and personal look. This model feels and looks like a regular running shoe but it provides the features that are typical for safety work shoes – durability, protection features and comfort.
Wearing steel toe running shoes will give you the necessary comfort, improved protection and casual look no matter where you are.