Rain boots are type of footwear that has been present on the market for a very long time. This is a very useful type of boot because it provides waterproof protection for the feet. In some cases rain boots come in the form of an overshoe which can be placed on our existing boot. Quality rain boots are made of water repellent materials. There are many variations of rain boots and the ones that provide highest protection for the feet are steel toe rain boots. With steel toe rain boots you will not only get waterproof protection but you will also get protection from falling objects and rolling objects (something that is happening quite often on rainy weather), electrical hazards etc. These work boots are very helpful for individuals that work outdoors in places where they are in contact with water (near rivers, lakes, ocean, swamps, on rainy weather etc.).Now let's take a look at some of the most popular models of steel toe rain boots.
Quality Steel Toe Rain Boots
Timberland PRO Women's TiTAN Brown Steel Toe Waterproof Boots
We will start a pair of women's steel toe rain boots that will serve as a reminder that there are good steel toe rain boots for both men and women. This model is known for its beautiful design featuring brown full grain leather. Women wearing these boots don't have to worry about moisture or water in general because they come with water resistant membrane and waterproof leather. Besides that they are very comfortable and excellent for women that have (or want) to wear protective boots for a longer period. These boots are very light and this is another big plus for them. They meet several ASTM standards and they are also EH labeled.
Chippewa Men's Waterproof Steel Toe EH Logger Work Boots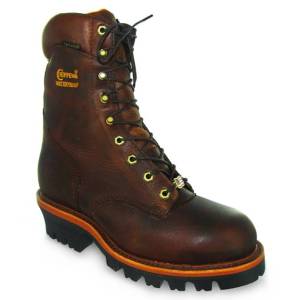 This model of steel toe rain boots can be described with two words – comfy and safe! They come with a leather of outstanding quality. They include the special Chip A Tex technology that provides another layer of protection from water and moisture. Even the laces used in these boots are designed in a way that protects the feet from moisture. They have Ruby Dri-Lex 2000 lining which provides great air flow and keeps the moisture out of the boot. They are both slip and oil resistant and they meet ASTM standards and have a EH certification.
Georgia Insulated Waterproof Steel Toe Loggers Boots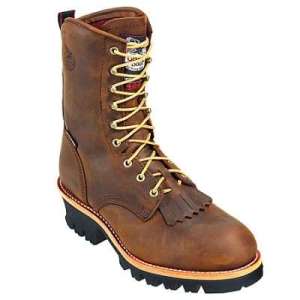 Gerogia Boot is a well known brand in the field of protective footwear manufacturing. They have many successful steel toe rain boots and this is one of their most popular ones. Although they come with soft leather and you can feel the comfort from the first time you try them on your feet, you should know that they are extremely durable, strong and provide great protection especially from water and moisture. They have a logger design and they are very light. The best part is their original Tacoma style outsole that comes in one piece and it is both slip and oil resistant.