In the past, the only purpose for wearing boots was to keep the feet protected while providing certain level of comfort. After a while, people started to consider boots as part of their fashion statements. Modern boots are made of different materials, they include different features and have different designs. Military or combat boots are a type of boots that is getting very popular these days. Even though, some people might think that combat boots are made strictly for military use, the fact is that civilians can enjoy the benefits of wearing a pair of combat boots too. This tactical equipment and gear has become very popular among civilians as part of their casual outfit, but these boots are also used as work boots too. They are usually very resistant and durable and this is one of the main reasons why people love them. The good news is that people can easily find cheap combat boots for men with good quality. If you are interested in boots like this, you have come to the right place because we have a list of high-quality and affordable military boots that will suit anyone's needs.
Best Men's Military Boots
Rocky Alpha Force Men's Side-Zip Duty Boots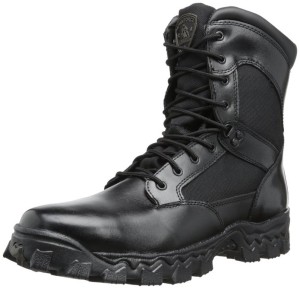 If you are involved in intense work that lasts for many hours, you need to wear a pair of comfortable and strong boots. With over 80 years of heritage and tradition, it is quite logical to expect boots with ultimate quality by Rocky Boots. This pair of men's black combat boots comes with full-grain leather uppers that can stand up to any type of hard work. They have completely waterproof construction that won't let water reach your feet in any situation. On top of that they have rubber outsole that doesn't leave markings and they are resistant to oil. Needless to say, their beautiful appearance makes them ideal for any outfit although the height may make them incompatible with some pieces of clothing. They also have side zipper for fast and simple pulling on and off the feet. Thanks to the wicking nylon the feet is left at the ideal temperature all the time. The EVA midsole cushions are here to absorb the impact. Finally, they are relatively lightweight and comfortable mostly because of the Terra suspension insole.
Danner 55317 Mens Tanicus 8″ Danner Dry Boots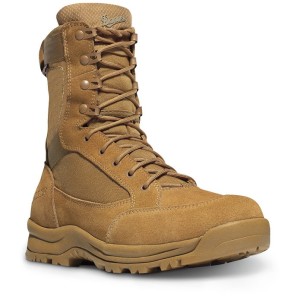 Military boots are praised for their strength and resistance and this pair of military boots by Danner meets and exceeds the expectations of wearers. Even though they are very flexible and lightweight, this doesn't mean that they are not durable. On the contrary, wearers have confirmed that they are very durable even when they are used on rough and unpredictable terrain. It doesn't really matter what your mission is, Danner 55317 Mens Tanicus 8″ Danner Dry Boots will help you stay focused on what you are doing without worrying and thinking about your feet. They are made of premium quality leather, they are waterproof and special NylonWaterproof Danner Dry Liner that keeps the moisture away from this area.
Reebok Swiftsure Men's Side-Zip Military Boots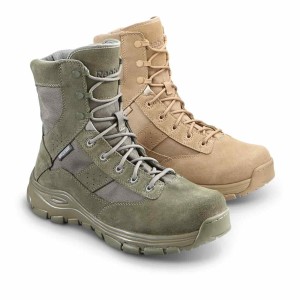 Reebok is the most popular UK footwear brand when it comes to athletic shoes. However, their offer of footwear goes beyond athletic shoes. This pair of military boots has proven to be equal or even better than the ones produced by companies specialized in production of work boots. Just like most combat boots, this pair is completely waterproof. It has special Aegis Shield lining that keeps odor, fungus, bacteria and moisture away. They also have rubber and EVA outsole and special NATO laces. The side zipper allows simple and fast on / off.