Metatarsalgia: What is It?
The metatarsal area (the ball of the foot), is a collection of forefoot bones that connect to the toes. The human foot has a protective pad of fat at this point to cushion and absorb shock between the metatarsal area and the ground. Normally, there should be no pain while walking. Metatarsalgia is a condition that manifests as inflammation and pain of the underside of the forefoot. Sufferers usually feel pain and tenderness at the point where the bones of the 3 middle tones join the rest of the foot and behind the big toe, the metatarsal head.


Also called "stone bruise", it's mostly common among highly active people due to high impact of the foot against the ground especially when running, jumping or jogging. It affects males and females, and is commonly a result of poorly fitted foot wear, repeatedly wearing high heels, aging, diabetes, Rheumatoid Arthritis, Morton's neuroma, being overweight, an underlying medical condition and so on. When caused by ill-fitting shoes, it can be relieved by wearing shoes made for ball of foot pain.
Severity of pain varies and can affect from just one toe to the whole foot and at times both feet at once.
This article will guide you on how to relieve metatarsal pain and also review some of the best shoes and insoles for managing metatarsalgia.
How to Relieve Ball of Foot Pain
When experiencing pain, the immediate solution will be to get off your feet for a while. However, this may not always be possible especially when at work. Below are a few tips to help you manage the pain:
The first culprit is usually your shoes: too-high or even too-flat can be a problem. Look for good arch support and a low to medium heel with padding at the forefoot area.
Use shock absorbing and cushioning shoe inserts for ball of foot pain.
Avoid walking barefoot for extended periods of time on hard floors.
Replace your shoe insoles. With time the original insoles wear out and stop cushioning your feet. Inspect your shoes regularly to confirm the condition of the insoles.
Use over the counter pain medication (in moderation and not every day).
Opt for physical therapy and exercises depending on the severity of the pain.
Below is our recommended review of shoe models specifically designed to relieve metatarsalgia symptoms.
5 Best Shoes for Metatarsalgia: Men
Amazon rating 4.8 out of 5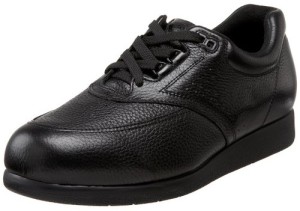 The Drew Lightning II shoes for men is a popular choice for metatarsalgia shoes due to its wide shank and toe area. Its roomy with air-flow mesh vamp and quarter linings. Custom orthotics fit in well in this shoe owing to the two removable insoles and extra depth. Body is fully padded leather with sturdy outsole for firm grip on floor surfaces.
Available in 3 combinations of black and 5 other colors.
Pros: The mesh makes it breathable enough to wear during summer.
Cons: May not be as comfortable as the older models.
Amazon rating 4.3 out of 5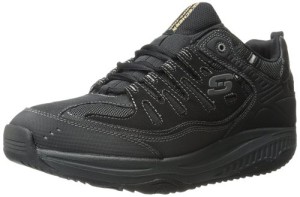 Next on the list is this Skechers sneaker with fabric and faux leather upper body. It's one of the best walking shoes for ball of foot pain. Mesh fabric at the toe, tongue panels and heel for cooling with soft fabric inner lining. Firm PU frame to hold the foot and soft inner memory foam for shock absorption.
Available in three color mixes.
Pros: Very good walking shoes.
Cons: Runs a bit narrow, confirm size before purchase.
Amazon rating 4.4 out of 5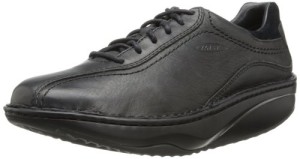 MBT stands for "Masai Barefoot Technology" and they pride themselves on their barefoot technology. Their shoes are uniquely shaped and designed with a curved sole making it feel like walking barefoot on a bouncy and soft surface. It works to improve your posture and gait, relieving joint and back pressure. The Ajabu Oxford comes highly recommended as one of the best shoes for ball of foot pain.
The body is laced-up leather with rubber sole and dual shank midsole. It has a 3D mesh for cooling and is available in black and 2 shades of coffee.
Pros: One of the best metatarsalgia shoes available presently.
Cons: Sizes run a bit small, the shape takes some getting used to and may look irregular to some people.
Amazon rating 4.6 out of 5
Another MBT model, this shoe has a lace-up leather upper body with rubber sole, and gusseted tongue to keep out water and debris. It serves for multi-purpose functions whether to work or a casual outing. It's well cushioned against ball of foot pain but can be worn with orthotics if you choose to do so.
Available only in brown color.
Pros: Difficult to find more comfortable metatarsalgia shoes than these.
Cons: Runs a bit narrow. Expensive.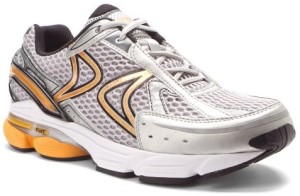 These shoes are designed with comfortable walking in mind. It protects both the forefoot and rear foot using Fat Pad Gel insert and midsole stability plate that come with the shoes. Breathable Aeromax mesh body for coolness, padded tongue and collar and flat seam lining prevents chaffing and rubbing.
Available in three color mixes.
Pros: Lots of support, very comfortable.
Cons: Confirm sizing before purchase, lacing up can be tricky.
5 Best Shoes for Metatarsalgia: Women
Amazon rating 4.4 out of 5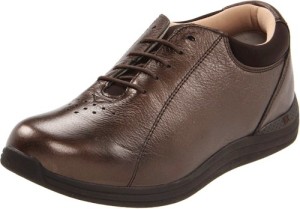 Drew is an old name in therapeutic shoes for comfort and style and this model does not fail. The leather upper body is fully padded, soft inner lining and lace-up front for a close fit. The heel and sole area is synthetic and measures about 1 inch. It's one of the best women walking shoes for metatarsalgia.
Available in 13 colors including black.
Pros: Works well with most custom orthotics.
Cons: May be too boxy and wide for some peoples taste. Upper body is stiff.
Amazon rating 4.6 out of 5
Featuring the Alegria Rocker design, this clog helps your feet roll naturally relieving pressure on the heel and metatarsal area. It features removable insoles for inserting custom orthotics, breathable leather insole, roomy toe area, and footbed to mold the natural shape of your feet. The body is leather with rubber sole and heel of about 1.5 inches. The adjustable buckle allows you to adjust the fit.
Available in almost 50 shades and color mixes including black.
Pros: Very comfortable, can be worn practically all day.
Cons: Confirm sizing before you order.
Amazon rating 4.4 out of 5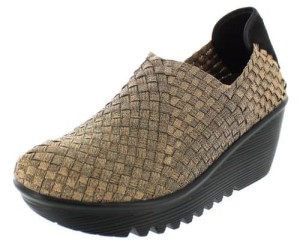 Bernie Mev is another well-known brand for the best pain of ball foot shoes. This wedge has a 2.5 inch heel, handwoven elastic upper body and rubber sole. Its memory foam cushioned footbed makes it a good contender for best metatarsalgia shoes. Very lightweight and flexible.
Available in nine colors.
Pros: Attractive style, good for walking.
Cons: Sizing is inconsistent.
Amazon rating 4.2 out of 5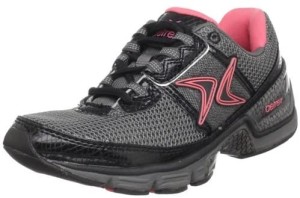 The Aetrex Xspress fitness runner is a perfect choice for metatarsalgia shoes when you are required to be on your feet most of the day. The entire upper body is breathable mesh, with padded tongue and collar. Advanced cushioning technology distributes pressure on the underfoot relieving ball of foot pain. Good traction for various floor surfaces.
Available in black/coral and silver/blue mix.
Pros: Very comfortable.
Cons: Not built for rough handling and very tough terrain.
Amazon rating 4.2 out of 5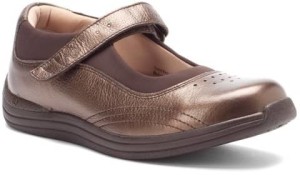 Comfort meets style for those that can't wear casual shoes to work. It can be dressed up or down as desired.
Supple upper leather body, with clean lines and Velcro® brand closure. It has two removable insoles, and layers of lightweight material to cushion and protect the ball of foot area. With PU slip-resistant outsole for firm grip and padded collar area, it's a good option for metatarsalgia women shoes.
Available in 20 colors.
Pros: Very comfortable and good for long walks.
Cons: Runs wide and deep.
What are Insoles for Ball of Foot Pain?
Insoles are shaped inserts designed to fit into shoes. They can be custom made or mass produced and are prescribed after examination by a podiatrist, or foot specialist. They serve various functions including cushioning the feet, relieving foot problems, like metatarsalgia, and correcting body and feet alignment.
Insoles come in different forms including mesh fabric and gel.
Insoles Reviews: Best 3 Insoles for Ball of Foot Pain
Amazon rating 4.6 out of 5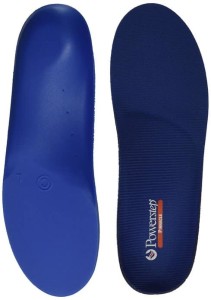 PowerStep insoles are designed by the founder, a podiatrist, manufactured in the USA, and is widely described as one of the best insoles for metatarsalgia. The Premium model provides strong foot support, deep heel cradle and double layer foam cushioning. It can be used with work or casual footwear and is available in blue color.
Pros: Recommended by orthotists for various feet condition including metatarsalgia, knee problems and plantar fasciitis.
Cons: Takes some getting used to.
Amazon rating 4.2 out of 5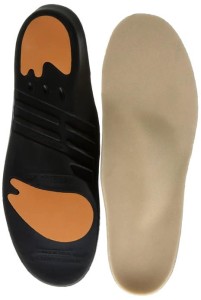 New Balance is another favorite brand of best insoles for ball of foot pain. It works by lifting the metatarsal heads preventing and relieving pain and discomfort caused by plantar fasciitis, Morton's neuroma, and metatarsalgia. It's designed with Plastazote to mold the feet and Abzorb cushioning at the forefoot and heel for shock absorption. It also features arch support, heel cradle and synthetic sole. Works well with most shoes and boots.
Pros: Very good ball point cushioning effect and arch support.
Cons: Comes very thick so you may have to order shoes in a bigger size to fit.
Amazon rating 4.8 out of 5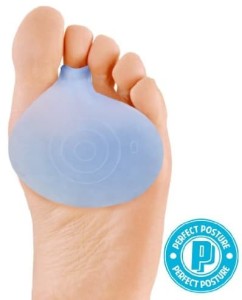 These shoe inserts are shaped like little cushions for ball of foot pain and come in a set of two (one for each foot). They work by distributing your weight around your foot and easing pressure on the metatarsal. It's designed with CoolTec Gel technology, is extremely durable and flexible.
Pros: Very positive reviews from users, good cooling sensation even after hours of walking, some users describe it like "walking on clouds".
Cons: Depending on your choice of footwear, you may have to wear socks to prevent the cushions from sliding.
Conclusion
It's important to note that though not life threatening, metatarsalgia can become very painful and distressing to the sufferer and cause them to limp from place to place. Taking the steps mentioned above and getting the right shoes can reverse the effects of ball of foot pain or at least reduce it considerably.