In case you don't own a pair of steel toe shoes you have probably heard how useful they are. They provide outstanding protection for the feet; they are strong, comfy and durable. But all these advantages literally come with a price. They are usually expensive and not all people are ready to make an investment like that especially when they need the support of steel toe shoes or boots only in special occasions. Luckily, there is a solution that is cheaper and a solution that provides almost the same level of comfort and security we have mentioned before.
What are steel toe overshoes?
The solution comes in the form of steel toe overshoes. The concept of overshoes is relatively new but it has already made a huge success because it is very practical. Overshoes are simply a slip on pieces of leather, rubber or other material that is placed on top of your shoes. In the case of steel toe overshoes this slip on material is reinforced with steel toe caps. Just like steel toe shoes, steel toe overshoes are built to last – they are made of strong and durable materials and designed in a way to resist all type of weather conditions. They are ideal for outdoor activities where snow, mud, rain and dirt are part of the environment.
How do steel toe overshoes look like?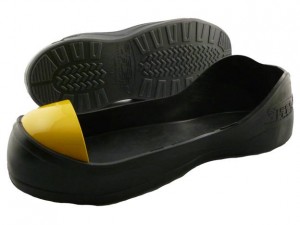 Steel toe overshoes come in different types. They are based on the type of shoes. For example, you can find steel toe overshoes for places affected by high temperatures, for mountains regions with a lot of snow, muddy areas, swamps etc. This means that before you buy the overshoes you will have to know more about the terrain where you will work. This is the only way to choose the right overshoes. As previously mentioned steel toe overshoes are made of different materials but what they all have in common is the presence of rubber in their construction. This is very logical because overshoes need to be placed on top of the shoes and rubber is known for its elasticity. Furthermore, rubber will help the insulation, durability and strength of the shoe. It can also help you against water.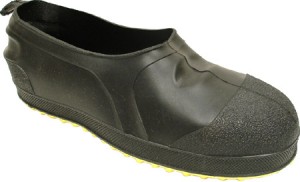 If you have no idea how steel toe overshoes look like then you should know that they are based on existing models of steel toe shoes. They can look like military steel toe boots, winter shoes, running shoes etc. Their design is not that complex but they are still aesthetically acceptable. Some people compare them with a pair of socks that are worn on the outside. In general steel toe overshoes will not fit the shoe when they are placed on the shoes for the first time but over time they will tighten up.
There are many manufacturers that produce steel toe overshoes. People often make a mistake and choose the first pair they find. That's wrong because each pair of overshoes has its own characteristics just like shoes. So, before you buy a pair do some research and choose the one that suit your needs the best.