Concrete is one of the most common types of manmade surfaces today. This is not a surprise because concrete is durable, safe and it doesn't look bad. However, the qualities that we are describing are present only when the job is done. If you are working on concrete every day, you will have to take special measures to protect yourself. Obviously, your feet are most exposed if you are working of a concrete slab. If you wear regular boots, it is very likely that your feet will feel the negative consequences of this exposure after a while. That's why you need work boots for concrete. Before we share the details and start analyzing the best work boots for concrete we should point out that there are boots and shoes that are used to work IN concrete and boots and shoes used to work ON concrete. The best shoes for walking on concrete have ultimate support for the ankle and exceptional shock absorption. On the other hand, if you are looking for the best work boots for concrete floors while you are working in the slab, you should focus on rubber boot-like models. These shoes and boots must keep the moisture away while providing good comfort. Now let's check some of the models that fit in these two categories.
Best Work Boots for Walking on Concrete
Irish Setter Men's 6″ Work Boot
Irish Setter is a trusted brand when it comes to work boots. The Irish Setter Men's 6″ Work Boot are one of the best work boots for concrete floors especially if you are working on concrete. Although some people will find them costlier than most other concrete boots and shoes, the truth is that they are worth the investment. They come with a specially designed flat sole that can help you feel comfortable on concrete even if you are standing for several hours. The comfort comes from the quality rubber soles that are very soft and provide excellent impact/shock absorption. You can also notice the beautiful and modern design. It is good to point out that these boots are made of leather. They have ideal 6 inch boot shaft height. Finally, this model meets the ASTM F2892-11 Electrical hazard standards.
The Original Muckboots Muckmaster Hi Cut Boot
Muck Boot is another popular brand focused on work boots. According to many experts The Original Muckboots Muckmaster Hi Cut Boot is one of their best models. When you first look at them you will realize that they are especially useful for people who work in concrete. They are also good for people who work in harsh weather conditions. Rubble, mud, dirt, wet concrete – these are some of the situations and environments in which these boots can help you. They are made of CR Flex Foam – a synthetic material that is known for its durability. The shaft measures about 15 inches from arch which means that your feet and even your legs are completely protected. Of course, this pair of boots is completely waterproof.
TREDS Over-The-Shoe 17″ Rubber Slush Boots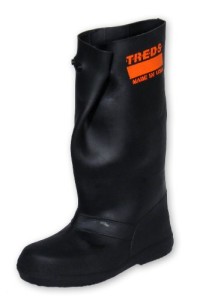 If you are looking for work boots for concrete floors that are affordable and provide all the features that an individual that is working in concrete needs, then you must put this pair of boots on the list. They are made of rubber and primarily used as overboots. This pair of boots has reinforced heel and special sole that improves traction. They are molded from one piece of rubber. Finally, thanks to the snap closure you can easily pull on or off these boots that fit every type of feet – wide, narrow or even flat.