In the beginning boat shoes were manufactured for people who practiced sailing and boating. They were inspired by the Indian moccasins because they provide good protection from water and they have low profile which makes them suitable for boats. Today, boat shoes are used everywhere from the streets in the cities with no access to the sea to the local marina. Their distinctive style made them so popular and even some specialized work shoes like steel toe shoes have boat variants. Steel toe boat shoes are used at work sites where workers are often in contact with water but they are also used in everyday activities of people who want to wear shoes that have original look and to get extra protection for their feet. They come in a variety of styles and colors. Steel toe boat shoes can be used as work shoes, informal dress shoes and casual shoes. They can be used in any occasion that doesn't require strict formal dress code. In case you are wondering how these shoes look like and which are the most popular models of steel toe boat shoes we are presenting you few notable models.
How do steel toe boat shoes look like?
As previously mentioned, steel toe boat shoes have distinctive appearance but what they have in common is their casual look, low profile, good water resistance and they are very durable.
Rockport Men's Steel Toe Leather Boat Shoes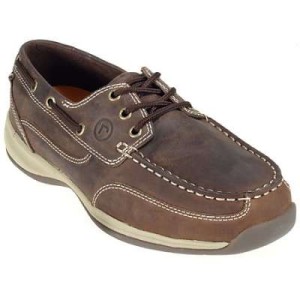 It is no surprise to see that a shoe manufacturing giant like Rockport has several models of steel toe boat shoes in their offer and this is one of the most popular models. The authentic brown leather is carefully stitched with white stitching that only improves its casual appearance. They have special supportive design and outsoles that absorb any type of shock. The unique nylon mesh allows better air flow and reduces sweat. They are also slip and oil resistant and meet ASTM standards.
Rockport Women's Steel Toe Navy Boat Shoes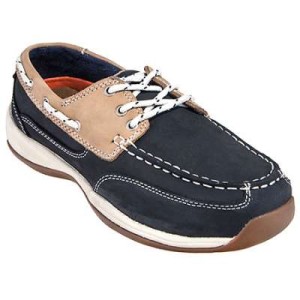 Steel toe boat shoes are equally popular among men and women. That's why Rockport is working on both categories of boat shoes. This particular model is another proof about how stylish and trendy steel toe boat shoes can look. At the same time they come with a number of safety features like slip-resistance, oil-resistance, abrasion resistance etc. They provide incredibly soft feeling for the feet mostly because of the EVA foam used in several elements of this shoe.
Rockport Men's Steel Toe SD Boat Shoes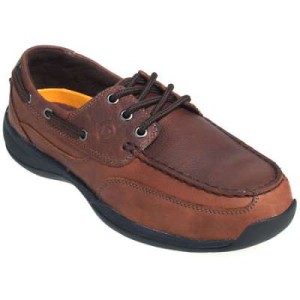 Rockport designers certainly had three things in mind when they were designing these shoes – comfort, strength and charm. These lovely steel toe boat shoes surely provide all these things. Just like every other boat shoe they come in low profile style and have brown leather upper. The outsoles are made of rubber which guarantees stability and support. Rockport has used special technology that keeps the feet dry even in places with high humidity. They also meet ASTM standards and have electrical hazard protection.