Safety shoes are the perfect type of footwear for various activities. Good safety shoes will keep your feet safe from injuries and you will be able to perform your tasks without thinking about your safety. You can find all kind of safety footwear today and these boots and shoes can vary in their size, color, material and design. It looks like the manufacturers have created protective shoes for every occasion and weather conditions. Dress safety shoes are one type of safety footwear that is getting really popular because of its features – they provide maximum protection and they look formal and casual at the same time. If we need to compare them with another type of shoes we would say that they look like typical office shoes that are combined with suits except they have much better protective features. If you still don't have an idea how they look we are presenting you few popular models of dress safety shoes.
Examples of Popular Dress Safety Shoes
Rockport Men's Steel Toe Wing Tip Work Shoes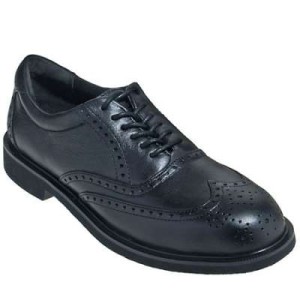 These classic looking dress steel toe shoes are great example about the things we have mentioned before. They will provide protection in dangerous work environment and look good on you when you are not at work. Don't be fooled by their dressy appearance because these shoes have all the necessary protective features. These shoes meet ASTM standards and they are designed to absorb electrical shocks. They come with unique linings that will keep the moisture out of the interior. In addition, the kinetic air circulator cushion inserts provide air flow and keep the right temperature inside the shoe. The uppers are made of full grain leather. They are also oil resistant and slip resistant. Overall they are excellent work dress safety shoes.
Florsheim Men's Steel Toe Lace-Up Oxford Work Shoes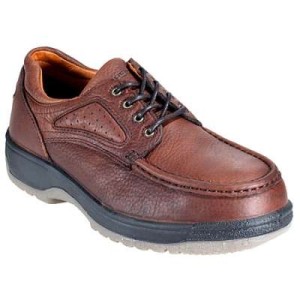 You will be surprised how casual these dress safety shoes look like. But you will be even more surprised by the safety properties they have. These dress steel toe shoes have every feature that classic work boots have. One of the best things about this model is the comfort it provides. The leather uppers bring the necessary softness and flexibility but they also bring breathability and durability too. They are oil, abrasion and slip resistant. They meet several ASTM standards. Just like many other shoes of this type the manufacturer has designed a special Dri-Lex lining in order to get rid of the moisture that usually builds up on a hard day at work.
How to select the right pair of dress safety shoes?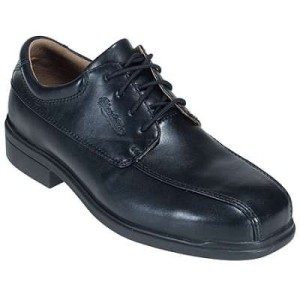 Each of us has different style of clothing. However, since we are talking about safety shoes you should first select shoes that meet some safety standards. After that try to find shoes that are suitable for some occasions where you are regularly present. For example, if you need them for work and for business meetings we suggest you try some of the Oxford models. Since there are so many models that can be used during the whole year try to find a pair like that – a pair that will protect you from cold and hot weather. Depending on the work environment select shoes that are focused on certain type of protection like oil-resistant shoes or EH shoes. Whatever model you choose you should know that these shoes are usually easy to maintain.
Where to buy dress safety shoes?
You can find them in any store that is offering safety shoes. In case you don't have time to visit your local footwear stores use the internet because this is the place where you can find dozens of shoes like these.