Many people choose Ariat work boots not only for their excellent performance at any type of environment but also for their beautiful looks. Most Ariat work boots have steel toed cap which is quite natural because we are talking about work boots. This addition in boots is becoming a standard when it comes to safety equipment. No matter where you work – on a construction site, in a factory or as a logger in the forest, Ariat has boots in designs that can meet all your requirements. You don't even need to be at work to find this boots useful – they are equally good for outdoor activities that take place on some rough terrain. If you have to stand on your feet most of the day because of the specific nature of your job you will surely need to find a pair of comfortable boots. Ariat work boots are made in a way that can provide the necessary comfort in combination with ultimate protection for your feet. They have excellent cushioning; great outsoles and they are usually made of full grain leather. Since there are dozens of Ariat work boots on the market we have decided to review three best selling models that present the best features of Ariat work boots.
Top 3 models of Ariat work boots
Ariat Men's Steel Toe Cascade Lacer Boots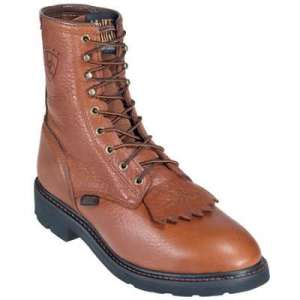 You can tell by the way these Ariat work boots look that they are designed for work at any kind of weather conditions. They are made with premium quality full grain leather and they have features that can rarely be found in other work boots – they are moisture and abrasion resistant. They come with Goodyear Welt Construction which means they are very durable. These ASTM approved work boots have excellent electrical hazard protection and slip and oil resistance. You can find many online discounts related to this model of boots.
Ariat Men's Steel Toe Workhog Cowboy Work Boots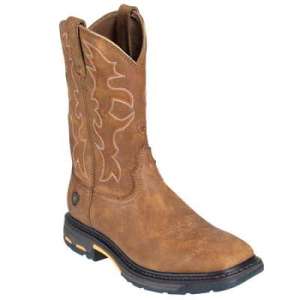 Many models of Ariat work boots use Western style and this is one of the best steel toe models from Ariat. They don't have laces and it is very easy to put them on your feet. Of course, pulling your feet out is equally easy. They have special ATS Max system with very soft footbeds that keep the moisture out of the interior. In addition, they have a soft layer of cushioning. These Ariat work boots meet ASTM standards and they provide EH protection, slip and oil resistance and they also have great shock absorbing properties.
Ariat Men's Steel Toe Goodyear Welt Sierra Boots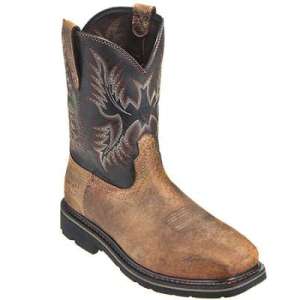 This model of Ariat work boots will get your attention with their appearance but once you tried them you will be amazed by their comfort too. There are many reasons why these boots are so popular. They have full grain leather uppers. They feature Goodyear welt construction which provides the best fit for your feet. They have soles that are chemical and moisture resistant and outsoles that are slip and oil resistant. These boots meet ASTM standards too. If you are looking for comfort, safety and unique style then take this model into consideration.