Electricians are a type of professionals who work under specific conditions both inside and outside of business premises and homes. That's why they must take special care of the clothing and footwear they have. Many footwear manufacturers have acknowledged this fact and they have included safety boots for electricians in their offer. Most of them are electrical hazard work boots which is quite logical because the constant work with electricity make this the number one risk factor for electricians. Cold weather, rain, extreme hotness – these are some of the conditions that electricians face when they are doing their job. The best work boots for electricians must meet all the criteria in order to provide safety and smooth work regardless of the conditions. If you are interested in high-quality work boots for electricians, we will provide a few suggestions.
Top work boots for electricians
Carolina Men's 6-Inch CT EH WP 600-gram Boot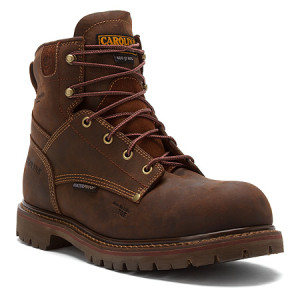 Carolina Show Company is based in Pennsylvania and they are popular because of the affordable and high-quality work boots that are used in different industries. Carolina Men's 6-Inch CT EH WP 600-gram Boot in particular is a model that provides ultimate protection from every type of weather conditions. Needless to say, they also come with undisputed electrical hazard (EH) protection which is definitely the most important thing when it comes to safety shoes for electricians. The quality of this pair of boots can be seen in the Goodyear welt construction and the non-metallic composite toe which provides almost same level of production like steel toe solutions, but it is much more comfortable. Electricians who are usually working on cold weather will be glad to hear that there is a pair of good boots like these ones that come with 600 gram insulation that is waterproof, very durable and comfy. There is also a removable and adjustable insole made of polyurethane for extra comfort and stability. Even though they can be used both inside and outside, it is quite logical to extend their life if you use them only indoors.
Dr. Martens Burham ST Work Boot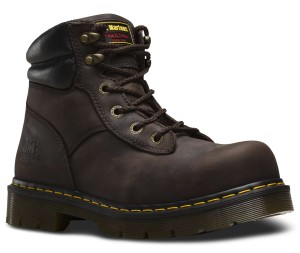 Dr. Martens is one of the most famous footwear and clothing brands in the UK and in the world. The company was founded after the Second World War and so far they have released dozens of different shoe and boot models. They are interesting because of the specific appearance and they are often used by followers of certain urban subcultures. This model is designed for heavy work and it is ideal for electricians. The best thing about these boots is the premium-quality leather with manually made soles. We can all agree that these boots are made to last. Dr. Martens Burham ST Work Boots come with specially designed outside resistant to extreme temperatures. It can withstand a temperature of 300 degrees Celsius for more than one minute. In additions, these boots have excellent slip and fall resistance. Their thick outsoles and few other components make them resistant to electrical hazards.
Rocky Mobilite Steel Toe Waterproof Work Boots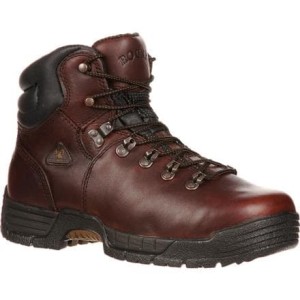 Now here's another good example of work boots for electricians made by a respected brand. As the name suggests, they have steel toe that prevents injuries from fallen heavy and sharp objects and they are also waterproof which is perfect for electricians that usually work outside. Rocky Mobilite Steel Toe Waterproof Work Boots follow the Electrical Hazard Standards and they are not looking rough like most work boots. They have leather upper and lace-up design that guarantees stability during any type of work. Another thing that makes them special is the realistic price.