The fact that the job of a waitress demands constant motion all day is not debatable. They are expected to attend to customers in a very fast-paced environment while on their feet all day, doing all this on different kinds of floor surfaces. The majority of restaurants and fast food businesses, will have a sort of dress code in place for their waitresses (usually black shoes only). Here are some important properties expected in waitresses' shoes as well as our carefully selected review of the top 10 best waitress shoes.
Specific Properties Required for Waitresses' Shoes
Waitresses will need to attend to numerous diners all day long, and are required to keep a cheerful and courteous disposition. Choosing shoes with the below qualities should make that easier!
Comfort and fit. The selected shoes must feel and look good. They should help you get the job done rather than distract you. Feet pain due to ill-fitting, tight shoes will definitely distract you.
Shock absorption. From toe to heel, the best waitress shoes are expected to be well cushioned offering firm support for the arch area. This will prevent short and long term injury to the back, knees and feet.
Slip resistant. Slipping while attending to customers is absolutely unacceptable! Guard against that by choosing footwear with non-slip outsole. Our reviewed shoes offer some of the best of such footwear, even exceeding industry standards.
Well ventilated. The body should preferably be made with breathable fabric for good air circulation so there is minimal or no odor at the end of a shift.
Review of 10 Best Shoes for Waitresses
Amazon rating 4.2 out of 5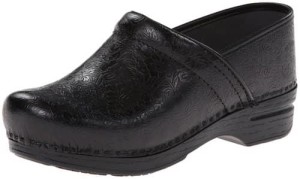 Dansko remains a favorite amongst waitresses for certain reasons: comfort and support. This brand comes highly recommended for long hours of standing/walking and is frequently recommended by podiatrists and is top on our list of best waitress shoes. The upper body is leather with spacy, reinforced toe box offering lots of wiggle room. Removable, dual-layer PU footbed, memory foam for added arch support and shock absorption. Rubber oil/water slip-resistant outsole, 1.5 inch heel and anti-fatigue rocker bottom.
Available in 12 colors.
Pros: Good shock absorption, comfortable even after wearing it for long hours.
Cons: Dansko shoes can take longer to break in.
Amazon rating 4.1 out of 5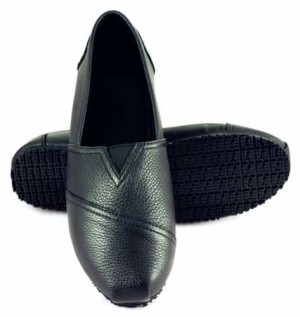 Specifically created for women in the culinary profession. It's lightweight while remaining functional and comfortable. Good choice for waitressing shoes. This model is a slip-resistant flat with genuine leather upper and stitched accents. The patented Townforst outsole holds the highest mark on the Intertek Quality Assurance slip test.
It has a lightweight flexible mid-sole and well cushioned insoles with rubber slip/oil resistant outsole.
Available in black.
Pros: Stylish and comfortable.
Cons: Runs a bit narrow, you may have to get additional arch support.
Amazon rating 4.5 out of 5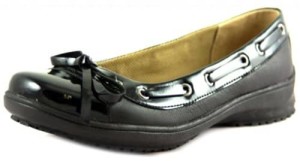 Another model for best waitress shoes. Genuine leather upper with stitched detailing, cushioned foam footbed and insoles, adjustable buckle strap for better fit. Highest score on the Slip Test by Intertek. Oil/water slip resistant outsole.
Available in 3 colors.

Pros: Excellent slip-resistant grip.
Cons: Runs a bit big especially in the heel area.
Amazon rating 4.5 out of 5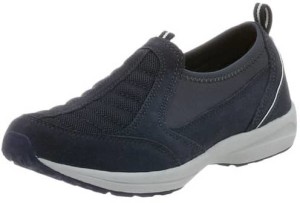 A slip-on sneaker from Easy Spirit brand, this shoe guarantees comfort with each step on or off duty. The Easy Spirit brand is known for footwear with advanced technology and classic styling. It has a stylish suede/mesh upper, neoprene collar for flexibility and removable insoles. Soft inner lining that won't chaff your skin, and rubber outsoles offering good traction on a variety of floor surfaces.
Available in 4 colors except black.
Pros: Very comfortable and stylish.
Cons: Doesn't come in black, it's a bit narrow you may need to order a half size larger.
Amazon rating 4.2 out of 5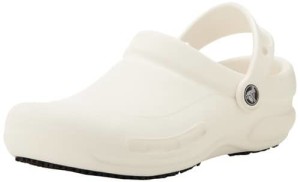 Crocs is an old, trusted name for very lightweight, comfortable shoes: just what waitresses need for long shifts. This model is designed with the restaurant industry in mind. The body is 100% synthetic with molded Croslite material, ventilation holes for breathability, contoured footbed, enclosed toe design and thicker metatarsal area to protect the wearer from kitchen spills. Adjustable Croslite strap for closer fit and features toe and heel bumper.
Easy to maintain shoe with Crocs Lock tread slip resistance properties.
Pros: Lightweight, low maintenance and comfortable.
Cons: Runs wide and sizing is inconsistent.
Amazon rating 4.1 out of 5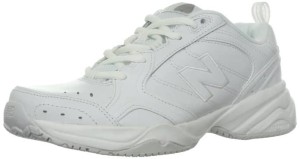 Great model from New Balance for waitress shoes, offering remarkable comfort and slip resistance.
They come in a more athletic look and offer cushioning and support for people who work on their feet in the hospitality industry all day. It has non-marking out-soles, lace-up leather upper and padded collar and tongue. Soft, breathable mesh lining and removable EVA foam footbed.
Some styles have the option of steel toe protection.
Available in black and white.

Pros: Very comfortable.
Cons: Not designed for rough use.
Amazon rating 4.5 out of 5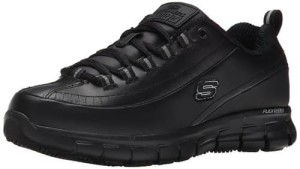 Discerning waitresses know to choose Skechers for stylish shoes that look and feel great. These waitress shoes have an upper body made of leather with lace-up closure for a casual/work design. There are side mini perforated panels for air circulation, memory foam removable insoles, and FlexSole shock absorbing midsoles for comfort and durability. Synthetic slip resistant outsole.
Color: Black

Pros: Particularly good for people with foot pain.

Cons: You may need to buy separate insoles for better arch support.
Amazon rating 4.3 out of 5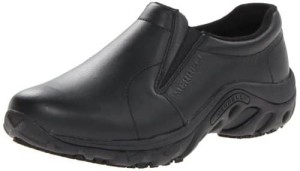 The Merrel Jungle Pro appears on this list of best waitressing shoes because of its top quality materials and versatility. It's made from high quality full grain leather for durability. Breathable mesh lining to take away unwanted moisture and odor-resistant M Select FRESH treatment. Removable EVA footbed for added support, Merrell Air cushion to absorb shock with each step. The entire ensemble is completed with SureGrip outsole for lasting traction.
Available in brown and black.

Pros: Easy to slip-on and wear all day.
Cons: A bit stiff for some people's taste. It's advisable to wear socks to avoid rubbing at the sides.
Amazon rating 4.5 out of 5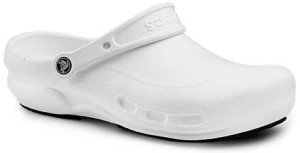 The slip-resistant grip of Crocs SureGrip is unsurpassable and makes it a top contender for best shoes for waitresses. Every step is cushioned. The Croslite upper features enclosed toe design for contour and protection with orthotic footbed and a heel strap for perfect fit. Very easy to maintain, odor-resistant, light, waterproof and comfortable enough to let you wear for hours on end without feeling discomfort.
Available in different colors.

Pros: Perfect for extended wear.

Cons: The upper material is not breathable and may cause sweaty feet in warm weather.
Amazon rating 4.3 out of 5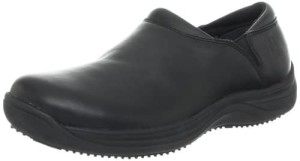 Mozo shoes are manufactured using the trademark MOZOFit System technology. It ensures the shoes provide the best fit possible to wearers. The slip-on Forza has an all-leather upper, slip resistant rubber outsoles and customizable fit. Gel insoles to soothe and comfort aching feet. Full-length cushion midsole for support and all-day comfort. If you are looking for the best shoes for waitressing, your search will not be complete without looking at Mozo shoes.
Available in black and white.

Pros: Lightweight and comfortable with good slip resistant grip.

Cons: Try it before buying as the sizing is inconsistent.
Conclusion
Obviously, many choices still abound out there for the best waitressing shoes, but the above reviewed shoes focus on the most critical features: slip-resistant grip and comfort. These shoes will ensure your feet ache less and instead allow you concentrate on the job at hand.