Just as any other professional workers, male nurses need to have good footwear that would support their feet and be comfortable. So here you will find the best nursing shoes for men. As male nurses work as hard as females, they need good shoes to minimize their feet pain at the end of the day. The question of comfort and use is rather subjective, though, we will try to provide some common characteristics for you to be able to choose among possible variants.
How to Choose the Best Male Nursing Shoes?
It's a well-known fact that nurses spend long hours on their feet, so no wonder they feel pain in the evening. Your feelings at the end of the working day depend on what you put on in the morning; that is why we will provide you with three most essential characteristics of nursing shoes for you to feel great while working and afterwards.
Size. The most important criterion of a perfect pair of shoes is a suitable size. Despite their type and shape, they should be neither small nor big; that means your shoes should fit not to rub. So, if you have chosen the fitting size, you have made the first step to success in choosing the best shoes for male nurses.
Base. The sole of the shoes is of great importance as well. The perfect choice for any male nurse is a thick and springy base that will reduce your painful feelings to zero. The more room there is between your feet and the ground, the more stress is absorbed by your shoes.
Flexibility. Best men's nursing shoes should be made of a soft, lightweight material that will not chafe your feet and prevent the discomfort from the first days of using your new shoes. Besides, flexible shoes will secure you from blisters and clavuses.
Top 5 Shoes for Male Nurses
In accordance with the previously described criteria we have compiled top five shoes for nursing men. A small review, pros and cons are given for each pair. While choosing the best shoes, remember that comfort is more important than style.
Dickies Medical Men's SRMEXAM Leather Step in Nursing Shoe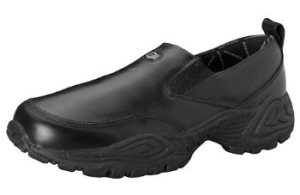 This shoes are available in different colors (white/black) and widths (regular/wide). An extremely comfortable washable and moisture absorbing collar line will add to your feet comfort. The sole of the shoe is rather lightweight, made of a slip-resistant material. The flexibility and lightness of the shoe make it perfect for long-term wearing. The approximate heel height is 1 ½ in. An average price of these shoes is $80.
Pros: comfort, flexibility, easy to clean.
Cons: heels that may throw off, too wide.
Dansko Men's Professional Oiled Leather Clog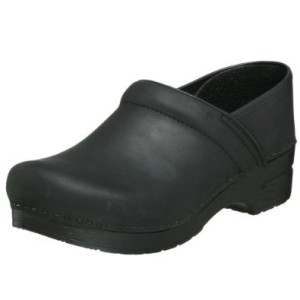 Dansko Clogs is a good alternative for male nurses who get tired of heavy shoes that are difficult to take on and off. This backless pair of shoes is an appealing variant for nurses who want to get high-quality and comfortable footwear. You may balance the shoe on your feet for the sensitive areas not to be compressed. They are lightweight, easy to clean and have padded collars that add to their comfort and good looks. The top of the shoes is rather flexible, so you will not hurt your feet.  The price of such lasting comfort shoes is around $130.
Pros: flexible, with balanced comfort, waterproof.
Cons: small sizes, width.
MOZO Men's Sharkz Hospital Shoe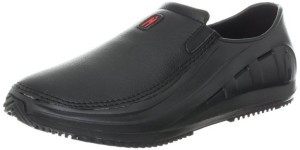 MOZO Men's Sharkz Hospital Shoes are not just stylish and unusual, but also very convenient. They have a moisture-absorbing lining and perfect sidewall ventilation that prevent moisture accumulation inside the shoe. They are available in black and white. In spite of the synthetic leather the shoes are made of, the sole is flexible and made of injection molded rubber. Among the basic advantages of this item is its light weight, ventilation and moisture absorbing features. And the most pleasant fact is the price that is only up to $70.
Pros: lightweight, ventilation, comfort, color variety.
Cons: synthetic leather, not waterproof.
K-Swiss Men's ST329 Fashion Sneaker Shoes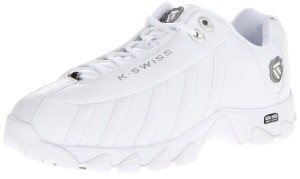 K-Swiss Men's ST329 Fashion Sneaker shoes are commonly appreciated for their durability that adds to the comfort they offer. Besides, the color range of these shoes is rather rich as it is available in black, white, silver and a mix of these three. In general, they are lightweight, have flexible rubber sole and synthetic leather that is easy to clean. You may buy this type of male nursing shoes at around $80.
Pros: durability, easy to clean, lightweight.
Cons: synthetic leather, low quality strings.
KEEN Men's Dawson CG Shoe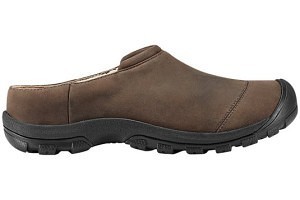 KEEN Men's Dawson CG Shoe is the best choice for everyday use. Having a rather simple design, the shoes are highly appreciated for extreme comfort. They are made of leather, though the base is rubber. It is well-known that quality costs more, that's why the approximate price of this pair of shoes is $140.
Pros: extreme comfort, lightweight.
Cons: they run short.
Conclusion
Hopefully, the criteria offered and our top 5 list will help you to choose the best shoes for male nurses that will make you feel comfortable at work.