There are many types of job in which it is necessary to wear special type of boots – work boots. Although the basic purpose of wearing these work boots is to keep your toes and feet protected, a good pair of work boots will help you with few additional things.
If the work boots is designed in a good way, it should also prevent slips, falls, provide adequate temperature and save you from electric hazards too. If you are working with heavy machinery and/or big tools then you should consider buying pull on work boots. They can guarantee good safety of your feet and on top of that they will eliminate the time wasted on lacing up. Just slip them on your feet and start working. In this article we will reveal some of the best pull on work boots in the market. There is no doubt that you will finish all the tasks in a timely and efficient manner if you rely on these pull on boot models.
Best Pull On Work Boots for Men
Timberland PRO Men's Five Star Regent Work Boot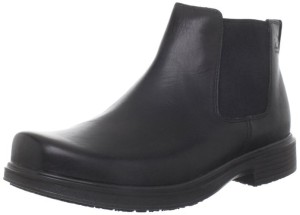 We don't need to talk much about the Timberland brand. For decades, this footwear brand is considered to be a synonym for quality boots and shoes especially models that are used at work. The Timberland PRO Men's Five Star Regent Work Boots have premium quality full grain leather and come with a trendy design too. They are very lightweight which means that you can freely move at work all the time without feeling heaviness in your feet. Their lightweight doesn't affect the durability because they have shown that they can last for a very long time even if they are used on a daily basis. Another thing that makes this Timberland boots one of the best pull on work boots for men is the outsole which is slip resistant. You can move in a natural way on any terrain even when the terrain is very wet or completely dry. In addition, Timberland has decided to include the Anti-Fatigue technology in this model which means that you can use them for many hours without worrying about fatigue. They have rubber soles that can absorb shock very well and they also have rubber sole for extended durability.
The Wolverine Multishox Romeo PullCapture On Boot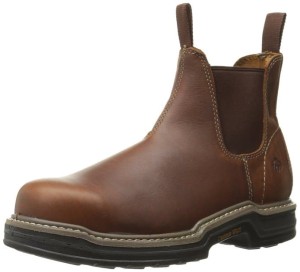 Truth to be told, the best pull on work boot models usually have simple designs. However, The designers from one of the most famous American footwear manufacturers, Wolverine, have come up with a pull on boot model that is actually quite attractive. It is probably the quality leather used in it and the low height. Because they have low height the pull on process is even simpler. Obviously, this is not the only advantage of using these boots. For instance, they have specially designed contour welt that provides extreme flexibility and ability to bend them well in order to get better movement and performance. In order to get extra comfort, the manufacturer has used a rubber sole and polyurethane midsole.
Caterpillar Men's Revolver Pull-On Steel-Toe Boot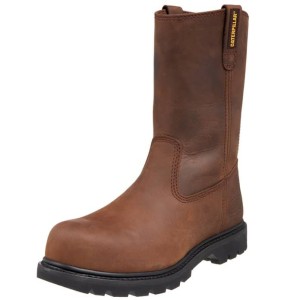 Boots made by Caterpillar are known for their comfort and durability. The Caterpillar Men's Revolver Pull-On Steel-Toe Boots come with authentic leather foot place under a suitable pull on shaft (also made of leather). They feature a Goodyear welt and what is even more important they have safety steel toe. So, even if you are working with heavy object and sharp objects that can easily fall, you will be protected. The outsole is slip resistant and resistant to electrical hazards. These pull on boots will definitely protect you and provide the needed comfort when you are involved in any type of activity.