Motorcycle boots are a special type of boots used by motorcyclists. They come in many different forms and shapes. Some of them are above the ankle while others go up to the knees. Even though most motorcycle boots don't look much different than regular boots, they have special interior. The manufacturers are taking care of the support of the feet and heel and few other things that make these boots safe and comfortable. In addition, the best motorcycle riding boots are not very expensive. Of course, you can find both cheap and expensive boots like this if you want. What is good to know is that these boots are very durable and provide certain level of protection in cases of crash or other accidents. In a way, these boots serve as work boots. The only different is that manufacturers usually take special care of the appearance of these boots because motorcyclists usually have special outfit and they need motorcycle accessories that match their overall style. When we talk about the best motorcycle boots, we must point out that the process of choosing a pair of such boots depends on your own preferences. However, there are a few models that are quite popular and we will reveal some of them in this article.
Best Motorcycle Riding Boots
Bates Men's Spencer Motorcycle Boot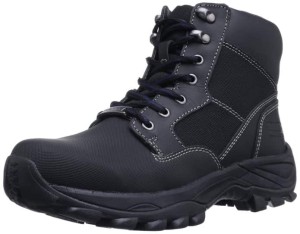 Bates is one of the oldest footwear brands in America founded in 1885. They are best known for their military, security and police boots. However, starting from 2015, they have decided to expand their business by including motorcycle boots in their offer. This is not a surprise because motorcycle boots share almost the same qualities with the aforementioned types of boots. Bates Men's Spencer Motorcycle Boots for example are made from full grain leather. They have rubber sole which provides good traction on any surface especially when the foot is on the paddle. The shaft measures about five inches from arch which means that a good portion of the lower part of the leg is covered with high-quality materials. The color is classic black and so is the appearance. We can all agree that a pair of boots like this will match every outfit. The man-made outsole has proven to be very durable. Overall, this is an excellent inexpensive pair of motorcycle boots.
Timberland Women's EK Stoddard Mid Biker WP Boot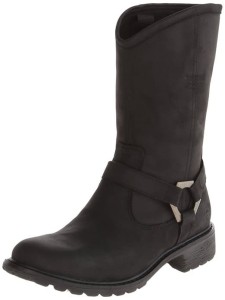 Today, there are many female bikers too and this fact was not overseen by one of the best boot manufacturers in the world – Timberland. These Timberland motorcycle boots are made for passionate female motorcyclists. They are made of high-quality leather and come in three colors – black, rust and rust nubuck. It is good that Timberland has left several options because women usually want to have more choices when it comes to footwear. These boots are relatively high – the shaft measures about ten inches from arch and the height of the heels is about 1,5 inches. These are also one of the best waterproof motorcycle boots with special construction sealed with seams that will keep the feet dry on rainy and snowy days.
Joe Rocket Ballistic Touring Mens Riding Shoes Sports Bike Racing Motorcycle Boots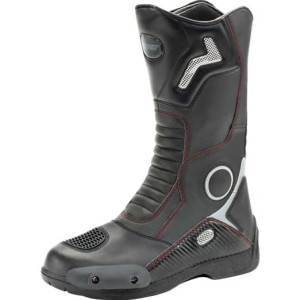 In case you need a pair of sports bike boots, this model by Joe Rocket will probably satisfy all your needs. They are made from special synthetic material that promises durability and comfort that lasts for many hours. Even though they are not waterproof they are water resistant. Thanks to the special toe box and adjustable ankle area, the rider will get better flexibility and mobility in this area. Finally, they also come with a no-slip bonded sole which can be quite useful for enthusiast and pro motorcyclists.