There is no doubt that farm work is a demanding type of work that requires the use of special clothing. If you are involved in such work, then you must consider the type of footwear you are using. There are specially designed farm work boots that have proven to be durable and practical. Of course, you can choose standard work boots, but the specific environment in which this work takes place will probably make them useless.
The best farm boots can help ranchers and farmers to stand on their feet for many hours without feeling any discomfort and without worrying about the safety of their feet. Generic work boots simply cannot meet the special criteria of farmers when it comes to footwear.
In case you are interested in ranch work boots, you will be glad to hear that the number of models of these boots is constantly growing. In order to speed up this process, we have selected the six most popular farmers boots today.
A List of Popular Farm Work Boots
Field N' Forest Men's Farm Boots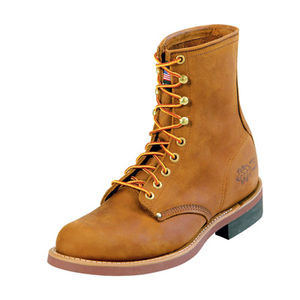 If you are looking for high-quality mens farm boots, then you are looking at a good sample. Created by one of the most popular companies dedicated to manufacturing work boots, these Men's farm boots are here to ease your job. One of the first things you will notice about them is the eight-inch, leather uppers that make these boots more attractive and of course more durable. Another great thing about this model is the fact that they are resistant to acid. This feature is especially useful for ranchers and farmers who are working with acidic materials. This model comes with a removable and adjustable cushion insert and rubber heel and sole that will keep your feet stable on any terrain.
Georgia Farm and Ranch Wellington Work Boots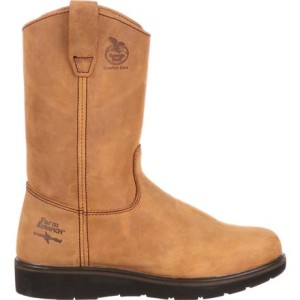 Those who are more interested in farm ranch boots with simple, yet attractive design must take this pair of boots on their wish list. Georgia Boot is a brand with a long history, so we can obviously say that the quality of these boots should not be questioned. When the designers were creating these boots they had two things on their mind – comfort and resistance to chemicals. It seems that they have managed to get these two things. The boot is made of special SPR leather. This leather has superior quality compared to standard leather used in most boots. It is more resistant and stronger. Next time when you are in the barn you don't have to worry about the pasture and barnyard chemicals because the boots provide perfect protection. This boot doesn't have laces which makes the pull-on process simpler. With proper care they can last for many years.
Georgia Boot Farm and Ranch Lacer Work Boot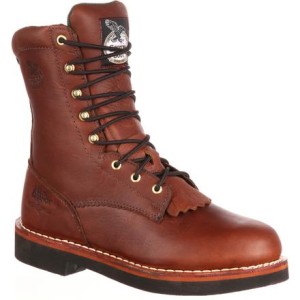 This is another Georgia Boot model with SPR leather which means that these farm boots for men are able to protect your feet from barnyard acids and other similar chemicals. The best part of this boots can be found inside the boot where the designers have placed a cushioned insole that will help people who are on their feet most of the day. The boots won't leave any marks on the floor and the laces guarantee great stability and safe walking. In addition, the Georgia Boot Farm and Ranch Lacer Work Boot comes with Goodyear welt construction, Unlined quarters, steel shank, sold brass stud hooks and they have a height of eight inches. They are built to last for a long time, regardless of the type of your farm work.