Running in the morning, walking with your dog, getting to the office, standing most of the day, running lots of errands for your boss, going shopping and so on… All these activities have a huge impact on our legs and feet, the part of the body that is supposed to keep us standing all day long. Sound tiring, but for people who suffer from plantar fasciitis this routine is literally unbearable.
What Is Plantar Fasciitis?

Plantar fasciitis is a condition when the ligament that keeps your toes and heel connected becomes weak, swollen or even inflamed. It can be caused by numerous reasons with the most common being excessive weight, atypical movements, additional pounding and bad shoes. People who are to suffer from this condition feel their feet become extremely strained and painful.
What Features Should Running Shoes for Plantar Fasciitis Possess?
Feature #1. Perfect fit
Though it sounds a bit tacky, nevertheless, shoes that don't fit your feet properly cause plantar fasciitis development. When choosing among a wide range of sneakers either for running or for walking, you should take into account the condition and consult a sales person as to which shoes to purchase and double check whether you feel fine wearing them. Moreover, you should know the width and length of your feet and don't forget about other important factors that will help you choose the best running shoesfor plantar fasciitis, e.g. swollen feet during the workout.
Feature #2. Cushioned soles and arch support
People who suffer from plantar fasciitis or those who are prone to developing this condition have a pretty weak arch and need to provide extra support which will make the load on the plantar fascia smaller and help you avoid additional straining. Cushioned soles are another feature to consider as it protects heels and lessens the pain.
Feature #3. Pronation correction
Pronation is a condition when your foot rolls inward while running or walking. To some extent it's quite normal, but it can lead to numerous injuries when it's excessive. Moreover, pronation is another cause of Plantar Fasciitis development. That's why many shoe brands have special footwear that helps to correct it. Just make sure to find a professional salesman that will help you choose the best model or research it yourself.
Best Running Shoes for Plantar Fasciitis for Men
#1. New Balance 940v2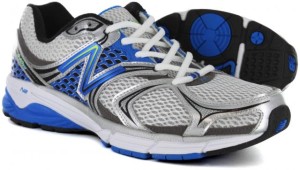 New Balance has a lot of great models designed both for running and walking but 940v2 is among the best sneakers for flat feet due to a perfect fit and cushioned insole they offer.
| Pros: | Cons: |
| --- | --- |
| Comfortable | Too big size. Some customers claim they had to order a smaller size to get a good fit. |
| Lightweight | |
| Cushioning | |
#2. ASICS Gel Kayano 19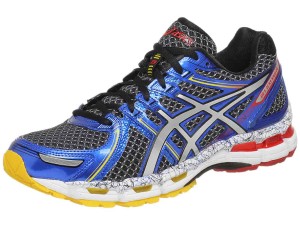 Being a nice upgrade of the 18's the ASICS Gel Kayano 19 became real top-notch footwear in people fond of sports but suffering from flat feet. Among the upgrades we can see a couple of improvements, such as the heel cup that can boast of two layers of memory foam and the gel insole that keeps your feet and heels supported and reduces pain and fatigue.
| Pros: | Cons: |
| --- | --- |
| Better support | In sneakers of some of the colors presented the inner lining seems to break down quicker than in others. Though this drawback is rather unpleasant, it cannot beat the benefit people get from these shoes. |
| Perfect for long every-day use | |
| Increased comfort | |
| A big variety of colors to choose from | |
#3. Brooks Men's Addiction 10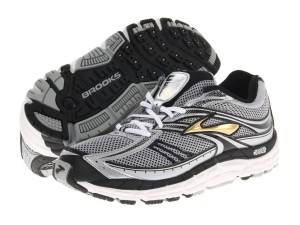 Another popular option of running shoes for plantar fasciitis. Brooks Addiction 10 is able to beat other popular running shoes brands and get to the top-3 list of the most comfortable shoes providing great support and stability. Older customers are happy with the tread design that gives perfect wet and dry traction, so with this pair you can say "good-bye" to twisted ankles, muscle fatigue and pains. Available with synthetic and rubber soles.
| Pros: | Cons: |
| --- | --- |
| Ideal for wide and short feet | Runs small. Customers claim you need to consider running shoes that are one size bigger from yours and then they fit perfect. |
| More comfort and increased foot support | |
| Cheaper than a visit to a podiatrist | |
#4. Brooks Beast 12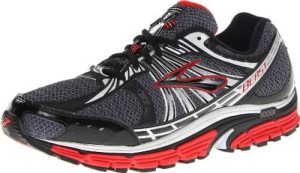 This model is extremely popular and very often chosen by people with plantar fasciitis due to its advanced stability, motion control and cushioning. When wearing these sports shoes, you will totally forget about feet pain and keep running faster, longer and farther. Diagonal Rollbar of Brooks Beast 12 gives firm arch support and motion control helps avoid excessive overpronation and is great for low arches.
| Pros: | Cons: |
| --- | --- |
| Easily adapts to each stride/run | Due to the abovementioned advantages and special technology to support feet and decrease pressure these shoes are claimed to be pretty expensive, however, their price is 100% worth the quality and satisfaction from wearing them. |
| Provides a perfect balance of stability and cushioning | |
| Promotes midfoot support | |
| Great performance for overpronators | |
#5. Brooks Glycerin 11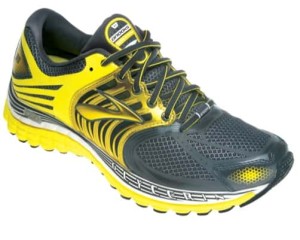 Being the company that offers a plenty of running shoes choices for people with plantar fasciitis it's also known for providing their customers with increased support and comfort. Most customers are sure the sneakers help relieve knee and foot pain just in a couple of hours. It doesn't matter with what purpose you purchase these shoes – for walking, running, working out or everyday use, you will be astonished by the benefits they provide.
| Pros: | Cons: |
| --- | --- |
| Extra support | Tight toe box. This is quite a common disadvantage in Brooks running shoes, though few customers consider it an issue of great importance. Tight toe box may be the result of the fact the company doesn't offer wider width, so before purchasing them you need to try them on and walk a bit to feel whether it feels tight enough or not. |
| Reduces leg, knee and foot pain | |
| Comfort | |
Best Running Shoes for Plantar Fasciitis for Women
#1. ASICS Gel-Kayano 20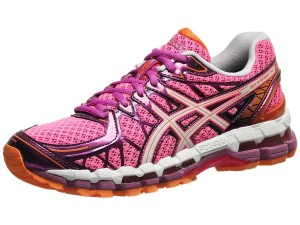 When wearing this ASICS model you will be able to forget about flat feet in the nearest future as these are considered to be the best sneakers for plantar fasciitis. ASICS Women's Gel-Kayano 20 is perfect for overpronators and gives additional bounce when running. Moreover, you can use custom orthotics as there is more than enough space and enjoy both workouts and everyday walks, and flat feet won't hinder you anymore.
| Pros: | Cons: |
| --- | --- |
| Lightweight | Reviews say the manufacturer changes the sizing too often so before buying them you should definitely try them on to make sure they fit. |
| Better cushioning | |
| Excellent support | |
| Great fit | |
#2. Brooks Ravenna 4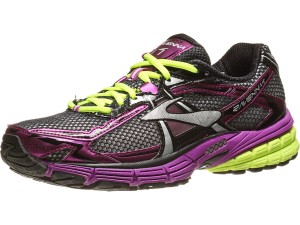 Brooks offers outstanding stability and cushioning, so Brooks Ravenna 4 shoes are among the best sneakers for flat feet for women. They are ideal for women with arch height below average as they provide exceptional arch support. Many female customers with knee issues claim these sneakers are the solution.
| Pros: | Cons: |
| --- | --- |
| Amazing sneakers for overpronators that allow to run more and faster | They are quite expensive but a good value for money. |
| Customized support, stability and flexibility | |
| Available in a variety of colors | |
#3. Brooks Adrenaline GTS 14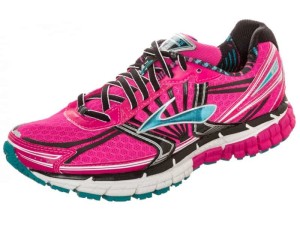 These running shoes are perfect for plantar fasciitis sufferers due to the solid arch support and cushioning they can boast of. Made of high quality materials Brooks Adrenaline GTS 14 they will prevent you from getting hurt or excessive muscle strain while running.
| Pros: | Cons: |
| --- | --- |
| Lightweight | To ensure great fit you will need to wear them before the purchase, though most customers say the shoes fit as expected. |
| Comfort | |
| Solid support | |
| Long-lasting durability | |
#4. Brooks Women's Glycerin 11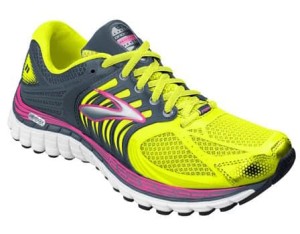 Amazing shoes for long runs and everyday use. Many customers give Brooks Glycerin 11 two thumbs up claiming that due to heel support and increased stability the feet feel great and don't ache. The arch and heel feels great, but if you want to get more out of these shoes, you can try them with gel insoles.
| Pros: | Cons: |
| --- | --- |
| Comfortable | Sometimes mesh fabric tears too soon |
| Relieve arch pain | |
| Great fit | |
| Good price | |
#5. New Balance Women's 940v2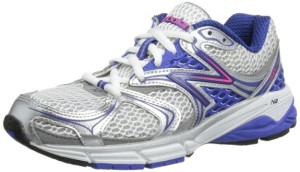 This New Balance model is equally popular in men and women due to better arch support and pain relief. Whether running or walking, 940v2 are so lightweight and comfortable that you won't feel you are wearing any sneakers.
| Pros: | Cons: |
| --- | --- |
| Cushioned insole | Be attentive when selecting the size as some customers claim the only con is the fact theseshoes run large |
| Lightweight | |
| Increased comfort | |
| Foot and knee pain relief | |
Tips to Find Best Shoes for Plantar Fasciitis
Though plantar fasciitis is a terrible condition, choosing the right shoes isn't as difficult as most people think. The following tips will help you to find the best and most comfortable shoes that will help you enjoy a good run or walk even in this condition.
Learn what kind of foot type you possess (pronator, supinator or neutral). If you cannot figure it out yourself, do not hesitate to ask your doctor about it. Knowing your foot type is important when choosing the most comfortable plantar fasciitis shoes.
It's better to try on a new pair of sneakers in the evening to make sure they fit you perfectly. The thing is in the evening our feet are a bit swollen after a busy day, thus they are a bit bigger. To ensure the shoes fit perfectly you need to leave some additional space for the toes.
To provide your feet with more comfort you can opt for running shoes that have motion control and promote stability.
Rubber soles are considered to be a better pick than leather or synthetic because of their shock absorbing qualities. So if you are looking for shock absorption, you will have to replaces the soles in your sneakers.
Midsole flexibility should be taken into account as well. If you want your running shoes to be extremely comfortable to wear while jogging, make sure your sneakers are easily bent in the middle.
Solid heel cup is also of great importance in sports shoes as it helps keep the heel in place.
The key feature of any shoes for flat feet is an ability to keep your feet pain free. That's why when trying on sneakers or any other shoes, make sure nothing hurts and you feel great wearing them even at the end of a hard day.
Shoe Inserts for Plantar Fasciitis as an Alternative
If you do not feel like tossing your favorite pair of sneakers into a trash can, you can save the situation with special shoe inserts that proved to be a great option for people suffering from inflamed plantar fascia. Such orthotic inserts are specifically designed to give more support and control, correct the foot position and relieve pain.Among those quite popular on the market nowadays are the following inserts:
Heel wedges. They lift the heel, therefore, reducing heel spurs and Achillies tendonitis problems and discrepancies in the leg length.
Heel cups. Made of gel, they serve as a pillow that provides your feet with extra support and comfort by increased shock absorption and cushioning.
Bottom Line
Generally when choosing the best shoes for plantar fasciitis, many people suffering from this condition notice that shoes for flat feet have similar characteristics: they provide motion control, support the heel and arch and fit well. Though to make a good decision and pick the best you should definitely try them on and make sure you feel pretty comfortable wearing them. Shoes for people with flat feet help to minimize pain and enjoy the activities you like the most, that's why coupled with patience and desire to select the best you are free to research and start strengthening your feet.
No matter whether you are searching to buy sneakers for workout, walking, running or everyday use, consider and choose among the above mentioned models that will definitely bring relief and make you forget about plantar fasciitis.